Nominentide nimekiri: Grammydel lähevad vastamisi Adele ja Beyonce, kandideerimas on ka mitu eestlast!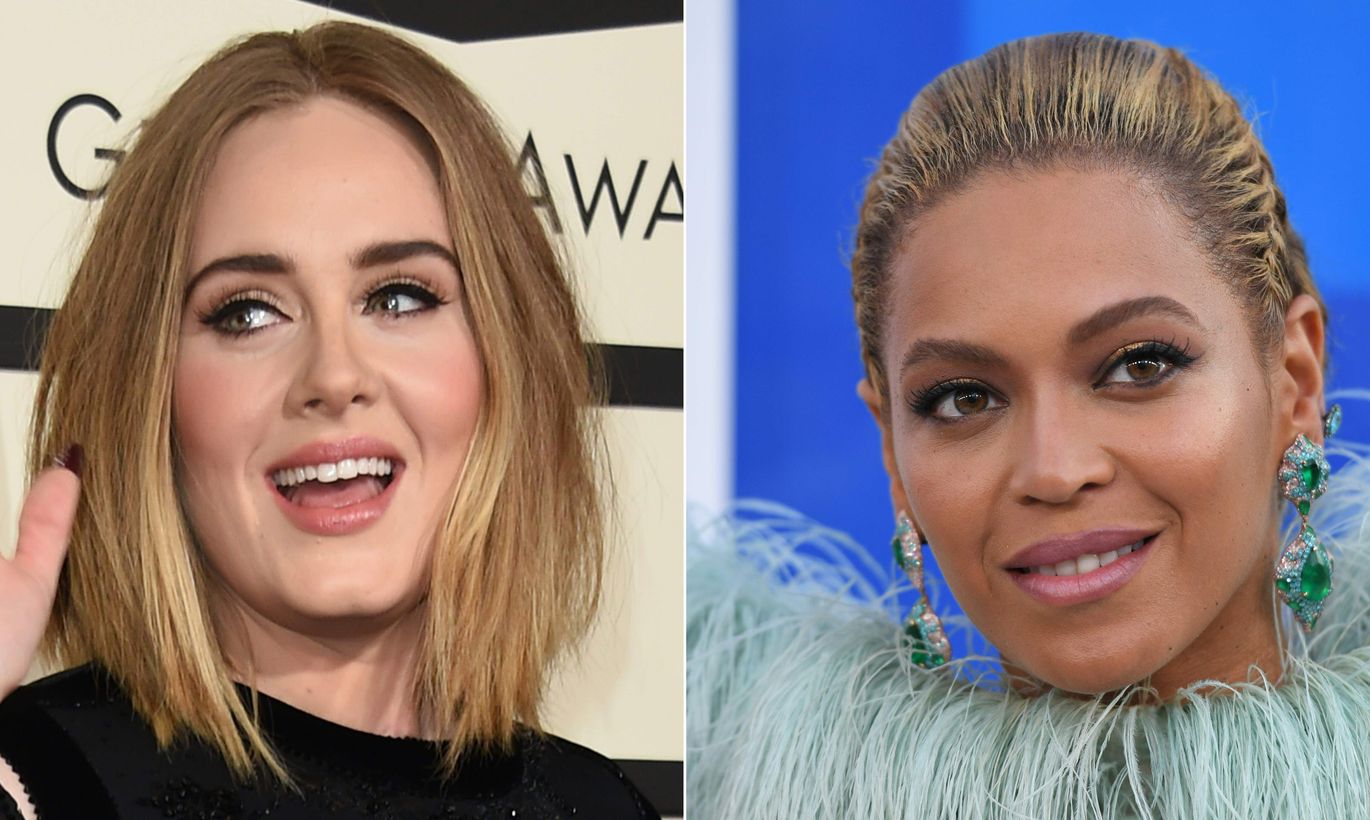 Teisipäeval avalikustati 59. Grammy muusikaauhindade nominendid.
Grammyle kandideerib lisaks maailmakuulsatele popmuusikutele mitu eestlast - dirigendid Tõnu Kaljuste ja Neeme Järvi ning fagotimängija Martin Kuuskmann. 
Sturgill Simpson, kelle bändis on ka eesti kitarrist Laur Joamets, kandideerib oma plaadiga «A Sailor's Guide to Earth» aasta albumi ja parima kantrialbumi tiitlile.
Suur duell on tulemas popmuusika võimsaimate häälte, Adele'i ja Beyonce vahel. Sel aastal on enim nominatsioone Beyonce'l, kes kandideerib üheksas kategoorias. Adele on nomineeritud viies kategoorias, kuid mõlemad jahivad aasta albumi kuldgrammofoni.
Rihanna, Drake ja Kanye West kandideerivad kaheksale Grammyle ning Chance The Rapper seitsmele.
Grammy auhinnagala toimub 12. veebruaril Los Angeleses ja seda juhib koomik James Corden.
Tähtsamate kategooriate nominendid
Adele — «25»
Beyoncé — «Lemonade»
Justin Bieber — «Purpose»
Drake — «Views»
Sturghill Simpson — «A Sailor's Guide to Earth»
Adele — «Hello»
Beyoncé — «Formation»
Lukas Graham — «7 Years»
Rihanna ft. Drake — «Work»
Twenty One Pilots — «Stressed Out»
Beyoncé — «Formation»
Adele — «Hello»
Mike Posner — «I Took A Pill In Ibiza»
Justin Bieber — «Love Yourself»
Lukas Graham — «7 Years»
Kelsea Ballerini
The Chainsmokers
Chance The Rapper
Maren Morris
Anderson .Paak
«25» — Adele
«Purpose» — Justin Bieber
«Dangerous Woman» — Ariana Grande
«Confident» — Demi Lovato
«This Is Acting» — Sia
«Hello» — Adele
«Hold Up» — Beyonce
«Love Yourself» — Justin Bieber
«Piece By Piece (Idol Version)» — Kelly Clarkson
«Dangerous Woman» — Ariana Grande
«Closer» — The Chainsmokers Featuring Halsey
«7 Years» — Lukas Graham
«Work» — Rihanna Featuring Drake
«Cheap Thrills» — Sia Featuring Sean Paul
«Stressed Out» — Twenty One Pilots
«Tearing Me Up» — Bob Moses
«Don't Let Me Down» — The Chainsmokers Featuring Daya
«Never Be Like You» — Flume Featuring Kai
«Rinse & Repeat» — Riton Featuring Kah-Lo
«Drinkee» — Sofi Tukker
«Skin» — Flume
«Electronica 1: The Time Machine» — Jean-Michel Jarre
«Epoch» — Tycho
«Barbara Barbara, We Face A Shining Future» — Underworld
«Louie Vega Starring…XXVIII» — Louie Vega
«Joe (Live From Austin City Limits)» — Alabama Shakes
«Don't Hurt Yourself» — Beyoncé Featuring Jack White
«Blackstar» — David Bowie
«The Sound Of Silence» — Disturbed
«Heathens» — Twenty One Pilots
«Shock Me» — Baroness 
«Slivera» — Gojira
«Rotting in Vain» — Korn
«Dystopia» — Megadeth
«The Price Is Wrong» — Periphery
«Blackstar» — David Bowie (David Bowie)
«Burn the Witch"  —Radiohead (Radiohead)
«Hardwired» — James Hetfield & Lars Ulrich (Metallica)
«Heathens» — Tyler Joseph, songwriter (Twenty One Pilots)
«My Name Is Human» — Rich Meyer, Ryan Meyer & Johnny Stevens (Highly Suspect)
«California» — Blink-182
«Tell Me I'm Pretty» — Cage The Elephant
«Magma» — Gojira
«Death Of A Bachelor» — Panic! At The Disco
«Weezer» — Weezer
Parim alternatiivmuusikaalbum
«22, A Million» — Bon Iver
«Blackstar» — David Bowie
«The Hope Six Demolition Project» — PJ Harvey
«Post Pop Depression» — Iggy Pop
«A Moon Shaped Pool» — Radiohead
«Turnin' Me Up» — BJ The Chicago Kid
«Permission» — Ro James
«I Do» — Musiq Soulchild
«Needed Me» — Rihanna
«Cranes in the Sky» — Solange
«Come and See Me» — J. Brathwaite, Aubrey Graham & Noah Shebib
«Exchange» — Michael Hernandez & Bryson Tiller
«Kiss It Better» — Jeff Bhasker, Robyn Fenty, John-Nathan Glass & Natalia Noemi
«Lake By the Ocean» — Hod David & Musze
«Luv» — Magnus August Høiberg, Benjamin Levin & Daystar Peterson
Parim urban contemporary album
«Lemonade» — Beyoncé
«Ology» — Gallant
«We Are King» — KING
«Malibu» — Anderson .Paak
«Anti» — Rihanna
«In My Mind» — BJ The Chicago Kid
«Lalah Hathaway Live» — Lalah Hathaway
«Velvet Portraits» — Terrace Martin
«Healing Season» — Mint Condition
«Smoove Jones» — Mya
«No Problem» — Chance The Rapper Featuring Lil Wayne & 2 Chainz
«Panda» —Desiigner
«Pop Style» — Drake Featuring The Throne
«All The Way Up» — Fat Joe & Remy Ma Featuring French Montana & Infared
«That Part» — ScHoolboy Q Featuring Kanye West 
Parim räppari-laulja koostöö
«Freedom» — Beyoncé Featuring Kendrick Lamar
«Hotline Bling» — Drake
«Broccoli» — D.R.A.M. Featuring Lil Yachty
«Ultralight Beam» — Kanye West Featuring Chance The Rapper, Kelly Price, Kirk Franklin & The-Dream
«Famous» — Kanye West Featuring Rihanna
«All The Way Up» — Joseph Cartagena, Edward Davadi, Shandel Green, Karim Kharbouch, Andre Christopher Lyon, Reminisce Mackie & Marcello Valenzano
«Famous» — Chancelor Bennett, Ross Birchard, Ernest Brown, Andrew Dawson, Kasseem Dean, Mike Dean, Noah Goldstein, Kejuan Muchita, Patrick Reynolds, Kanye West & Cydel Young
«Hotline Bling» — Aubrey Graham & Paul Jefferies
«No Problem» — Chancelor Bennett, Dwayne Carter & Tauheed Epps
«Ultralight Beam» — Chancelor Bennett, Kasseem Dean, Mike Dean, Kirk Franklin, Noah Goldstein, Samuel Griesemer, Terius Nash, Jerome Potter, Kelly Price, Nico «Donnie Trumpet» Segal, Derek Watkins, Kanye West & Cydel Young
«Coloring Book» — Chance The Rapper
«And the Anonymous Nobody» — De La Soul
«Major Key» — DJ Khaled
«Views» — Drake
«Blank Face LP» — ScHoolboy Q 
«The Life of Pablo» — Kanye West
«Love Can Go To Hell» — Brandy Clark
«Vice» — Miranda Lambert
«My Church» — Maren Morris
«Church Bells» — Carrie Underwood
«Blue Ain't Your Color» — Keith Urban
«Different for Girls» — Dierks Bentley Featuring Elle King
«21 Summer» — Brothers Osborne
«Setting The World On Fire» — Kenny Chesney & P!nk
«Jolene» — Pentatonix Featuring Dolly Parton
«Think Of You» — Chris Young With Cassadee Pope
«Blue Ain't Your Color» — Clint Lagerberg, Hillary Lindsey & Steven Lee Olsen
«Die A Happy Man» — Sean Douglas, Thomas Rhett & Joe Spargur
«Humble and Kind» — Lori McKenna
«My Church» — busbee & Maren Morris
«Vice» — Miranda Lambert, Shane McAnally & Josh Osborne
«Big Day In A Small Town» — Brandy Clark
«Full Circle» — Loretta Lynn
«Hero» — Maren Morris
«A Sailor's Guide To Earth» — Sturgill Simpson
«Ripcord» — Keith Urban
Parim kogumik visuaalmeediale
«Amy» — (Various Artists)
«Miles Ahead» — Miles Davis & Various Artists)
«Straight Outta Compton» — (Various Artists)
«Suicide Squad (Collector's Edition)» — (Various Artists)
«Vinyl: The Essentials Season 1» — (Various Artists)
Parim soundtrack visuaalmeediale
«Bridge of Spies» — Thomas Newman
«Quentin Tarantino's The Hateful Eight» — Ennio Morricone
«The Revenant» — Alva Noto & Ryuichi Sakamoto
«Star Wars: The Force Awakens» — John Williams
«Stranger Things Volume 1» — Kyle Dixon & Michael Stein
«Stranger Things Volume 2» — Kyle Dixon & Michael Stein
Parim visuaalmeediale kirjutatud laul
«Can't Stop The Feeling!» — Max Martin, Shellback & Justin Timberlake
«Heathens» — Tyler Joseph
«Just Like Fire» — Oscar Holter, Max Martin, P!nk & Shellback
«Purple Lamborghini» — Shamann Cooke, Sonny Moore & William Roberts
«Try Everything» — Mikkel S. Eriksen, Sia Furler & Tor Erik Hermansen
«The Veil» — Peter Gabriel
«Formation» — Beyoncé
«River» — Leon Bridges
«Up & Up» — Coldplay
«Gosh» — Jamie XX
«Upside Down & Inside Out» — OK Go
«I'll Sleep When I'm Dead» — Steve Aoki
«The Beatles: Eight Days A Week The Touring Years» — (The Beatles)
«Lemonade» — Beyoncé
«The Music Of Strangers» — Yo-Yo Ma & The Silk Road Ensemble
«American Saturday Night: Live From The Grand Ole Opry» — (Various Artists)